Safepass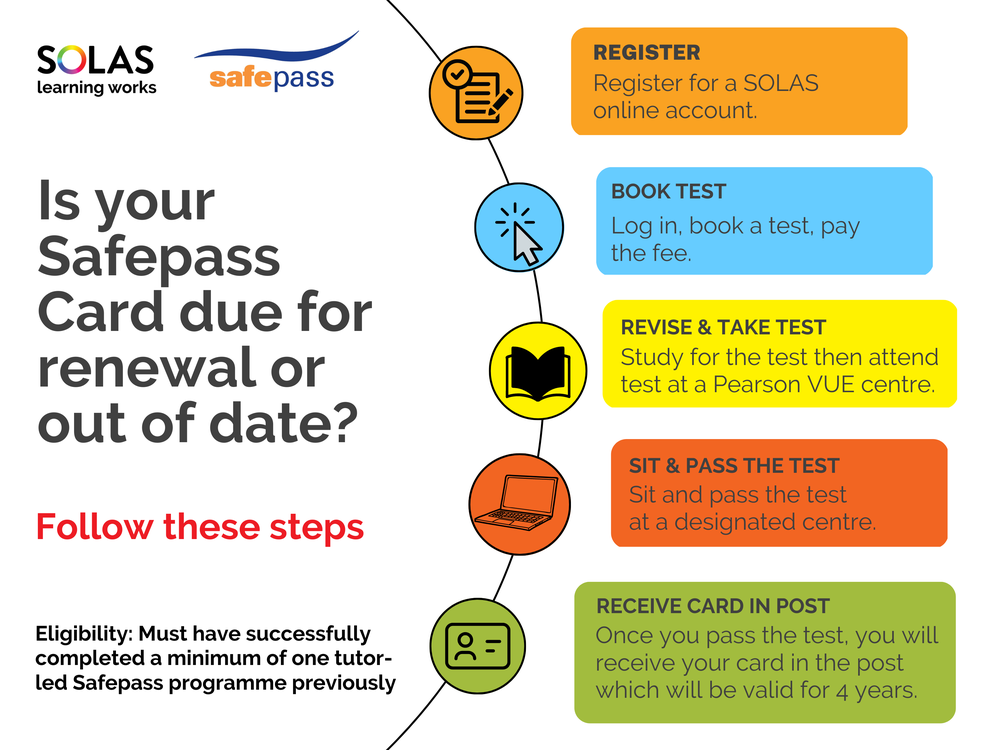 Revise for your Alternative Safepass Renewal

Revision Portal for Alternative Safepass Renewal
Guide to Safepass Renewal
What is Safepass renewal
The new Safepass renewal test is designed to allow those who have previously completed the classroom-based programme, to renew their Safepass card by completing a computer-based test in an approved Pearson VUE test centre.
This new system is very cost effective, saves you time and is and more direct route to renewing your Safepass card.
Self-Directed
Self-directed learning is learning that individuals undertake on their own. We encourage you to spend time reviewing the learning material on the Safepass renewal portal and review the question booklet. 

When you create your online account you will see two tabs. Profile and Revision Material. The profile tab contains your personal information and the link to Book a Test. The Revision Material tab contains the Official Questions and Answers Booklet and a range of revision material for you to study.
Preparation is vital to passing your test.
Test Centre Locations
You can sit the Safepass renewal test at an approved Pearson VUE test centre. There are currently thirty test centres delivering the Safepass Renewal test. This list is subject to change on an ongoing basis.
To search for a test centre, click on "Pearson VUE Call Centre Page" below and select "Find a Test Centre".
Pearson Vue Call Centre Page You can enter your home address to see centres close to you.  Or you can search by County.
We also understand that the Safepass renewal option may not be for everybody. Remember, you can also complete the classroom-based training via the network of SOLAS Approved Safepass Tutors/Training Organisations.
Accommodations
If you require special accommodations when taking your test please send your details to sprenewals@solas.ie and a member of the team will be in touch.
You can now renew your Safepass Card by completing a computer based test in an approved Pearson VUE Test Centre.
The test is 45 minutes long.  There are 50 multiple choice questions in total and you must answer 45 questions correctly to pass the test. 
To get started you must register for a SOLAS online account.  Click on the "Book your Safepass Renewal" button below to get started.
When you have set up your account you will find a range of Revision Material on the "Revision Material" tab
The Official Book of Questions and Answers (free of charge)

A Self Directed Learning Pack under each Module

Links to various legislation and codes of practice

Safety Videos

Toolbox Talks
You are advised to use this revision material to study before you take your test.
If you have any issues or queries around booking a test visit here
Telephone:– Ireland (freephone) : 1-800-800739 or
Email Safepasscustomersupport@pearson.com
If you have any issues registering for your SOLAS online account email sprenewals@solas.ie
You can purchase vouchers here or go to Constructioncourses.ie and click on Vouchers.
If you have any queries relating to the purchase of vouchers
Email
PearsonVUEVoucherStore@pearson.com
Telephone
+44 (0) 161 855 7455
Book your Safepass Renewal
Course Information
Replacement Card
If your Safepass Registration Card has been lost, stolen or damaged you can apply for a replacement which costs €32. Safepass cards must be in date in order to be replaced. Replaced cards will have the same expiry date as lost/stolen/damaged cards.
Please complete the Online Replacement Card Form, attach a current passport-quality photograph and complete the online payment. Please remember to use a high-quality photo. Applications may be rejected if your photo is low quality.
Replacement cards are generally issued within two to three weeks of receipt of your fully completed replacement form and correct payment.
There's a step-by-step instructional video below on how to apply for a replacement card.
Más mian leat an t-iarratas a chomhlánú i nGaeilge, seol ríomhphost chuig csuinfo@solas.ie
Apply for Replacement Card
Recognition of Equivalent Safety Schemes
Schedule 4 of the Safety, Health and Welfare at Work (Construction) Regulations 2013 provides for the recognition of equivalent safety awareness schemes approved by SOLAS.
The Construction Skills Register (CSR Northern Ireland) one day health and safety course is the only course recognised by SOLAS as an equivalent to the SOLAS Safepass course. Any person wishing to avail of this recognition must be in possession of a current CSR Health and Safety card.
Data Protection
Information provided by you or others (such as your Approved Training Provider) will be processed by SOLAS for the purpose of assessing, providing and administrating the Safepass Scheme. For further details please see the

Data Protection Notice